The Travel Industry's Leading

Source for FAM Trips &

Travel Agent Discounts!
Finding the best FAM Trip or Travel Agent Discount just got easier!
FAMrates.com was "Built by Travel Agents for Travel Agents" because we know how difficult it can be searching for the perfect familiarization trip or vacation. Our site allows travel agents to search the largest database of fam trips, travel agent rates and discounts in the industry.

Why lose valuable time looking through countless websites and magazines? Let our dedicated team of travel industry veterans provide you with the latest information.
Not only do we receive travel agent rates, travel industry discounts and fam trips directly from suppliers, but we actively research for even more opportunities. Search by supplier categories, geographic regions, or any keyword and click!
It's that simple.
famrates
About Us
FAMrates.com is the "Original & First" website owned and operated by travel professionals who strive to bring you the latest in Fam tip and Travel Agent Discount information. With our experience, expertise, and supplier participation, you can count on us to provide accurate and exciting fam information every week! .
read more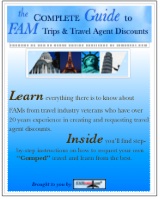 Only $19.95 for a 12-Month Subscription.
Gain access to countless FAM Opportunities.
BONUS: Also includes a FREE downloadable copy of: Once you subscribe, a downloadable copy of:
"The Complete Guide to FAM Trips & Travel Agent Discounts" will be available. This guide will teach you, step-by-step, how to set-up and request your own fam trips and site inspections.
Subscribe
Featured FAMs & Weekly Updates
Our site is updated weekly with new and exciting 2023 FAM postings that are categorized by geographic location (time sensitive additions are added immediately): USA & Canada, Asia & Middle East, Europe, Pacific and Hawaii, Mexico and Caribbean, Central and South America.
sneak peak
sample "top FAM picks"
From complimentary/free hotel stays to $99 cruises, over the last 20 years we've seen it all.
top picks

Newsletter
Join "TAgentMail" - Our Fam Trip & Promo newsletter and receive periodic updates on the hottest Fams & more ...
Join
On-Site FAM Reviews
Proudly serving the Travel Agent Community for over 20 years!