What to know before you go on a FAM Trip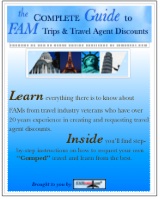 Table of Contents
About the Author .............................................2
FAM Trips & Site Inspections .........................3
>> What to Know Before you Go .................4
Planning your FAM Trip .................................5
Writing your Request .......................................8
Writing your Thank You Letter ......................11
Important TIPs ................................................13
I pondered the thought of even having to state this, but here it
goes. Unfortunately, there are people out there who pose as Travel Agents" in order to receive discounts. Not only is this unethical, but, it gives true agents a bad rap. Although, most suppliers require a valid I.D. such as a CLIA, IATA or TRUE (CCRA) card to receive a discount, I've experienced some suppliers that will trust that you are who you say you are.
That being said, try to arrange a FAM that you will honestly use in promoting your travel business and the supplier's product. In the end, making money for both you and the supplier is the fundamental reason for taking a FAM trip. Request destinations and suppliers that you book often or that you really want to become FAMiliar with. In fact, it will be that much easier to request a Fam when you've already sold their services. On occasion, suppliers will even check your ARC/IATA number for booking activity and/or ask what you specialize in or what you book most. For example, a corporate agent may have better luck obtaining a hotel in Chicago or New York that they book for business travelers, while a leisure agent would have an easier time requesting a resort in the Caribbean that send honeymooners to.
However, that doesn't necessarily mean that you MUST only request comps from destinations and suppliers that you are currently booking. Travel Agents never turn down business, therefore, you can state that you INTEND to become more familiar with their product or destination in order to sell more effectively. I was a corporate agent for many years and still got comped at many resorts by just stating that I will be booking my clients' personal travel as well

travel like a travel agent
Join our travel agent community. Only $19.95 for a 12-Month Subscription. Gain access to countless FAM Opportunities.
Subscribe