FAM Trips & Site Inspections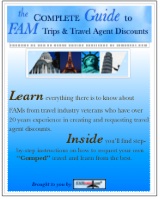 Table of Contents
About the Author .............................................2
>> FAM Trips & Site Inspections..................3
What to Know Before you Go .........................4
Planning your FAM Trip...................................5
Writing your Request .......................................8
Writing your Thank You Letter ......................11
Important TIPs ................................................13
What are FAM Trips & Site Inspections anyway?

A "FAM" Trip is short for Familiarization trip. These trips are offered by suppliers to travel agents so that they can experience their products and services firsthand. Often carried out on fam trips, site inspections allow travel agents to "inspect" or study their products and services. Cruise ships, hotels, and other suppliers want you to become familiarized with different room categories, amenities, facilities, and even food choices. Inspections can be formal, which are conducted by your host, or you can carry out one yourself at your leisure.


Who offers Travel Agent Discounts & why?

First, I have some great news, almost every supplier extends some sort of discount to travel agents. There is still some pretty stiff competition among suppliers whereby they still rely on travel agents in selling and promoting their business. The discounts can range from 10-75% off their published rates or even "Comped" (complimentary). These discounts can be offered by hotels & resorts, tour companies, bed & breakfasts, spas, car rentals, airlines, attractions, restaurants, golf courses, kayaking, fishing charters, and almost anything your clients may want to experience while they are traveling.

Many suppliers find it time consuming and costly to advertise their products & services (even to Travel Agents). Fam Trips provide suppliers with what is still the best form of advertisement - Word of mouth. For little cost to the supplier they can promote their business to frontline agents who can sell their products. Indeed, clients count on travel agents for expertise and advice that only firsthand knowledge can provide.

Agents can use valuable fam experiences to create custom tour itineraries and even use personal photos to showcase destinations and suppliers. Therefore, it's almost essential that travel agents attend fam trips to enhance their professional development. Consequently, fam trips are often the cornerstone of relationship building between the agent and suppliers.




travel like a travel agent
Join our travel agent community. Only $19.95 for a 12-Month Subscription. Gain access to countless FAM Opportunities.
Subscribe