About the author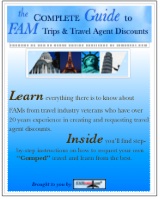 Table of Contents
>> About the Author ......................................2
FAM Trips & Site Inspections .........................3
What to Know Before you Go .........................4
Planning your FAM Trip ..................................5
Writing your Request .......................................8
Writing your Thank You Letter ......................11
Important TIPs ................................................13
Hello, my name is Gerry Notino, Travel Agent and Publisher of FAMrates.com and author of "The Complete Guide to FAM Trips & Travel Agent Discounts". Like many of you, I began my travel career for the excitement and adventure of traveling around the world. I recall my neighbor always telling me how his job as a travel agent allowed him to travel for free. As I continuously saw him leave his house with a packed suitcase, I knew that would be me someday.

Fresh out of travel school (Yes, they once existed), I was hired as a travel counselor working for a large business travel center. I was extremely excited and quickly began planning my FAM Trips and discounted travel arrangements. Back in 1989, business was good and the perks were enormous! I literally had an unlimited amount of free airline tickets at my disposal with hotels & resorts awaiting my arrival.

Many of my colleagues were impressed at my ease of obtaining complimentary or "Comped" travel and I even earned nicknames such as the "Comp King" and the "Fam Man". It seemed I had gained a reputation as the person to see for FAM Trips & Travel Agent Discounts. Soon after, my office created a position for me as the FAM Coordinator. I was to be in charge of planning FAM trips and guiding my colleagues with their personal travel.

Word quickly spread among travel agent circles and I began getting requests from a whole host of agents: even outside of my office. Realizing I needed extra assistance, I enlisted the help of a few trusted friends in the travel industry and assembled my fam team. Over the years, we planned - we arranged - we traveled!

Unfortunately, things began to change in the mid-nineties with the "much-dreaded" Internet. With the click of a mouse, the role of the traditional travel agent seemed to be diminishing. Although many of my coworkers disagreed, I saw the writing on the wall; the Travel Industry was in for a huge change. Home-based agents were to be the new 21st century driving force of the industry.

I guess I was right, our office closed in 2000 and I found myself unemployed - wondering what my next step was. I decided to take my knowledge and experience one step further and created FAMrates.com. Again, I rounded up my FAM team and together we created one place where travel agents can turn to for travel agent discount information.

With thousands of travel agents visiting our site, I get to do what I love – help travel agents get traveling!

travel like a travel agent
Join our travel agent community. Only $19.95 for a 12-Month Subscription. Gain access to countless FAM Opportunities.
Subscribe