Planning Your Fam Trip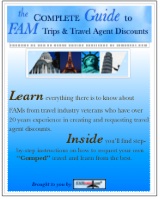 Table of Contents
About the Author .............................................2
FAM Trips & Site Inspections .........................3
What to Know Before you Go .........................4
>> Planning your FAM Trip .........................5
Writing your Request .......................................8
Writing your Thank You Letter ......................11

Important TIPs ................................................13
Although FAMrates.com allows easy access to many fam offers, it would be literally impossible to list all the suppliers that offer discounts for travel agents. There would be tens of thousands of listings (over 100, 000 hotels alone). As mentioned earlier, advertising can be costly and time consuming, this still holds true for many suppliers who offer travel agent discounts and incentive programs. Therefore it's almost imperative that you be proactive in requesting your travel agent discount.

If you really want to travel for FREE, it's going to take a little work on your part. This guide will demonstrate how I was able to arrange countless comped FAM trips for myself and other agents. The up front work is time consuming, but the reward is a highly discounted custom FAM trip itinerary tailored to fit your individual needs.

Lets get started, first and foremost, don't be shy! At first, even I was a bit apprehensive asking for comps, but be assured that you too will be providing a service. There really isn't a substitute for the opportunity to say, "I've been there" or "Good choice, I was just there and loved it." In addition, your personal photos can add a great deal to your sales materials.

However, after arranging a few fam trips, you will be requesting without hesitation! As far as getting started; it's imperative that you plan early. I usually start to plan a FAM at least 2-3 months before the departure date. I use the time to research the destination and to request early. Also, there is strength in numbers, therefore, try to network with colleagues and get at least 5 or more agents to attend the fam with you. Although I've had great success traveling alone, suppliers like to entertain as many agents as possible to obtain the most advertising exposure.

This brings me to my next tip; be flexible. In fact, once you are set on one destination, your plans may change because there may be better offers available to a similar location. For example, I've always wanted to go to Turks & Caicos, but Aruba's Travel Agent Month special was to good to pass up. One week in the Caribbean for under $300 was good enough for me!

Hence, narrowing your fam search to a region will often time yield better opportunities. To save on airfare, often times I fly into an alternate airport at a better rate and then rent a car with an agent discount and drive to my choice destination. You may want to also consider cruising or ferrying as another option for saving money. I've done that on several occasions whereby I had free domestic tickets and took a ferry from Ft. Lauderdale to the Bahamas for only $69.00.

The time of season and availability is also instrumental in getting the best fam offer. We all know it's always less expensive to travel in the off-season. This still holds true for requesting your fam trip. You may also want to consider having the supplier (especially hotels) suggest the dates of the fam for you. They will more than likely accommodate when occupancy and reservations levels are low. Flexibility in these areas (destination & time of travel) will give you the best chance of getting comped.

travel like a travel agent
Join our travel agent community. Only $19.95 for a 12-Month Subscription. Gain access to countless FAM Opportunities.
Subscribe